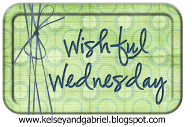 Wishful Wednesday is a fun way to think about the things in our life that maybe we think could be different...hop over to
Kelsey's blog
to see how this all got started!
This week's topic:
'I wish' .... I had the startup funds to build that company I have always dreamt about, and it would be _____!
Not a company...it would be the money, time and (most importantly) the ability to write books (and be published!).
My sister Leslie is foaming at the mouth right now because she has someone who does this for a living ready to read anything I want to send her to critique and give me helpful ideas...the problem is I have nothing to send her! I have toyed at the idea of a fiction novel...then put it down, then picked it back up...then thought about a children's book...I even have a great title for one...but then I get stopped by life.
My busy life to be more exact. I don't have the time to put into it...I don't know where to start...I keep thinking no one would want to read what I wrote anyway...and I can't draw, so a children's book is really out of the question! :)
But that is my wish on this Wednesday...I wish I could be an author!