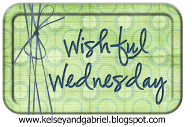 Wishful Wednesday is a fun way to think about the things in our life that maybe we think could be different...hop over to
Kelsey's
blog to see how this all got started!
'I wish' .... I could spend three minutes in _____'s shoes!
This one was really hard for me! There is always someone that you think isn't doing their job, or isn't living up to their potential or who you are afraid is going to make a mistake and you want to choose for them. But to walk in someone elses shoes? I often say I wish _______ would walk one day in mine...but that is for selfish reasons. Since I can't even fill my own shoes on most days...why would I want to walk in someone elses?
But at last, I have made a decision.
Since I only have 3 minutes, I want to spend them in Alisyn Camerota's shoes. Who is that you ask? Well, "Alisyn Camerota serves as a co-host of "FOX & Friends First" and news anchor for "FOX & Friends.""


She has a fast paced job and I figure three minutes in her shoes is like three days in mine! Her job looks like fun (though I know it is a lot of work...) and I would love to experience it. Just maybe not live.

What about you? Whose shoes would you like to fill for only three minutes?