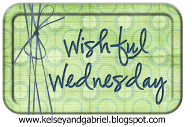 Wishful Wednesday is a fun way to think about the things in our life that maybe we think could be different...hop over to
Kelsey's
blog to see how this all got started!
'I wish' .... I could have stolen ______'s spotlight last night at the Grammy's!
Oh! I knew this one right away....I would totally steal Mary J. Blige singing with Andrea Bocelli. Now, it is no secret that I can't sing to save my life. My parents used to tell me that they would be happy to turn up the radio in the car if I would just not sing. Ok, maybe that isn't true. Maybe. But I can't sing. It is pitiful. So, technically, ANY performance would be worth a steal since it would make me 100% better than I already am. BUT, I want to sing like Mary J. Blige and oh my, to be good enough to sing WITH Bocelli...heaven.
I do NOT want to wear her dress though...I can't find any dress really that just jumped out at me from the Grammy's...but since I can't sing and never will be able to, I guess I really don't have to worry about finding a dress, do I?
What about you? What is your Grammy steal?